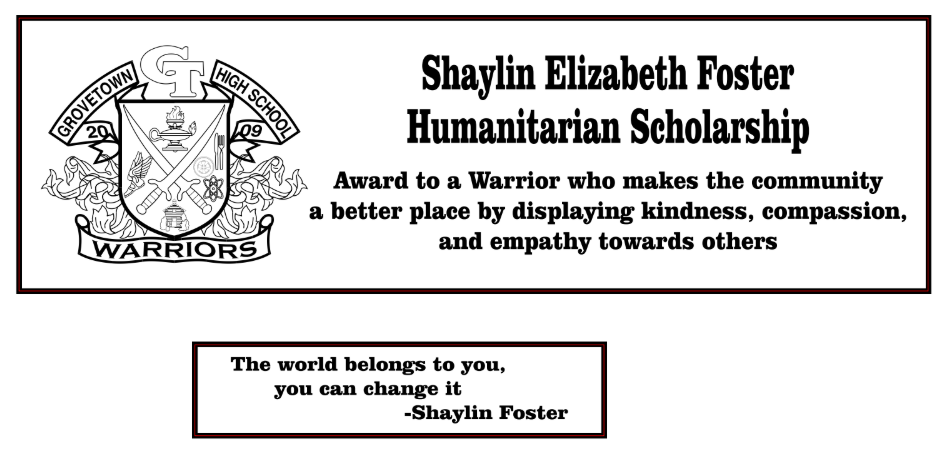 Posted by: Christopher Foster
|
2 years, 9 months ago
|
3 comments
Shaylin Elizabeth Foster Humanitarian Scholarship is for a graduating senior who demonstrate the character traits that our daughter Shaylin lived by daily. These traits included love, compassion, kindness, empathy, and a generous spirit. It is not based on exemplary academic performance, class attendance, or financial need.
Shaylin had a drive to make the world a better place by changing the world with small acts of kindness such as sitting by someone who was alone at lunch, introducing herself to a someone by themselves at a Cross Country meet, saving a dog in Belize, speaking a kind word to someone, walking a new Freshman to class. Although some of her acts were small it made a huge difference in the people's lives that she touched.
This scholarship is awarded to a Grovetown High Senior who like our beautiful daughter Shaylin has left a mark on their community through these traits.
Faculty and staff of Grovetown High School who notice these traits in graduating seniors are asked to nominate them for this scholarship. Please state what you feel each nominee has done for the school or community at large and what sets them apart from their peers. Once nominated the nominee will be required to fill out an application, write an essay, and collect two other letters of recommendation from local leaders.
Share on Facebook